Bartending Schools in Atlanta, Georgia
CERTIFIED 40 HOUR 'HANDS ON' BARTENDING TRAINING PROGRAM!
Bartending School Atlanta
Atlanta, Georgia
Windy Hill Village Shopping Center
2359 Windy Hill Road, Suite 330
Marietta, GA 30067
(770) 952-2588
Click here for MapQuest link
8:00 AM - 10:00 PM
7 Days a week
See full course schedule
Click here for all payment
and financing options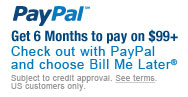 ABC Bartending Schools of Atlanta, GA is located in Marietta on Windy Hill Road.

Here are some reasons to consider ABC for professional bartending training. ABC has over 35 years of experience with schools Nationwide, from South Beach to Hawaii. Rest assured that we have the knowledge, experience, staff, and equipment to train you... And once that's completed... we have job placement personnel to assist you in finding the job that's right for you.

The staff members that answer your questions will also be your instructors.  This allows us to offer you that personal service and relationship.  Which is so hard to find in today's market place.  Our professional staff makes sure you get the right combination of classroom and "hands on training."  Feel confident as our staff provides individual attention to each student from enrollment to graduation.

Our job placement office is in constant daily contact with all types of establishments in Atlanta and throughout Georgia.  Additionally, graduates of ABC are entitled to nationwide job placement and refresher courses.

Our classrooms are fully equipped with ice machines, soda guns, an updated bottle inventory, glassware, blenders, video support, and a bar that allows us to provide you the most up-to-date training.

Our training program is 40 hours in length.  We offer 1 week all day classes, 2 week morning classes, and a 2 1/2 week night class.  Weekend classes can be arranged as well.  This flexible class scheduling allows you to choose the program that's right for you.  Upon completion, you'll feel confident and prepared to work as a bartender.  Our classrooms are available and open for you to come in and practice anytime to hone your skills and reaffirm your confidence.

ABC Bartending Schools also offers the certified TIPS server training program to all our graduates

Call 1-888-COCKTAIL or E-Mail us today at ABCBARTENDINGATL@BELLSOUTH.NET  for the information you need to begin your career as a professional bartender. Tuition is affordable. The most amazing part of this career choice is that unlike most schools of higher education... You can pay off your tuition investment with in a few weeks of graduation!

Thank you for visiting our web site! Contact us anytime to tour our school.

Cheers!

Staff of ABC bartending schools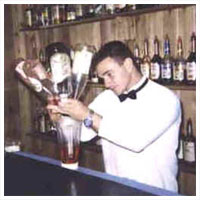 If you are 18 years of age or older, you could be in this picture, training in just 40 hours to become a professional mixologist.
Our Atlanta schools are authorized under THE NONPUBLIC POSTSECONDARY EDUCATION INSTITUTIONS ACT OF 1990.
We are an accredited member of the Better Business Bureau with an A+ rating in the 18 years that we have been training bartenders in Georgia. You can see our profile at the Better Business Bureau website by clicking here.
Only $100 to register and start for those who qualify for payment plans
Over 30 years of training bartenders - Do not be fooled by imitators & online schools that try to copy our successful program.
40 bartending job leads are available every week for bartending school graduates.
Since 1977 ABC has developed the best staff, professional bars for hands on training, & great job placement.
Convenient Class Schedules

1 Week Accelerated

Mon. - Fri.
9:30 AM - 6:00 PM

2 Weeks Day

Mon. - Fri.
9:30 AM - 1:30 PM

2 1/2 Weeks Nights

Mon. - Thurs.
6:00 PM - 10:00 PM

Adjusted schedules are available.
CURRICULUM ↓
Set up / Changing Shifts / Closing Out
Customer Service
Basic Bar Equipment
Bar Terms
What Glass for What Drink
Free Pouring / Mixing Techniques
Mixing Cocktails - Simple and Fancy (from Shooters to Irish Coffee)
Liquor Encyclopedia
Beers / Wines / Champagnes
Cash Registers / Money Handling / Charge Procedures
Tipping
Catering Private Parties
Job Interview Techniques
JOB PLACEMENT ASSISTANCE ↓
Job Placement Assistance, Too!

Tony Sylvester has been placing bartenders nationally since 1977 and brings to his schools the art of matching the right face for the right place. Take a look at the Placement List for your area and the nationwide chains that have hired our students.

Examples of Job Placements

Here are some of the many chain operations that hire our graduates:

Establishment

Location

Sweetwater Bar and Grill
Club Insomnia
Ketel One Lounge
Marriott Marquis
Wild Bills
Featherstone
The Derby
Gold Bar Restaurant
Dolce
Fox Sports Bar & Grill
Garrison's Restaurant
Dreams Nite Club
Atlanta Country Club
Olive Garden
Ruby Tuesday
Hyatt Hotel
Barnsley Gardens Resort
The Mansion Elan
Gizmo's Sports Bar
Cowboys
Echalon 3000
Club 428
Longhorns

Duluth
College Park
Airport
Atlanta
Duluth
Canton
Roswell
Underground
Atlantic Station
Atlantic Station
Atlanta
Midtown
Alpharetta
Dunwoody
Roswell
Atlanta
Adairsville
Atlanta
Fairbum
Kennesaw
Stone Mountain
Atlanta
Acworth