Bartending School NYC, New York
Licensed by the New York State Education Department.


Scroll Down to Have All of Your Questions Answered ↓
ABC Bartending School is the largest privately owned bartending school system in the United States, with locations from Seattle to South Beach. Tony Sylvester has been training and placing graduates nationwide since 1977. Bartenders are known for their ability to make great money while meeting new people and having lots of fun at their jobs. Look around you at the number of liquor serving establishments and the number of bartenders (full-time and part time) that it takes to staff these establishments.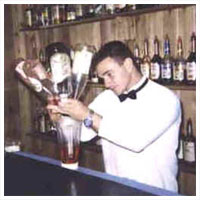 If you are 18 years of age or older, you could be in this picture, training in just 40 hours to become a professional mixologist.
Bartending Boot Camp
2-Hour Bartending Boot Camp
Saturdays or Sundays $95.00
Call for hours