Columbus, Ohio Bartending School
Our Columbus Bartending School has been authorized by the State Board of Career Colleges and Schools Registration Number 04 -11 -1732T
Here's an example of people recommending the ABC Bartending School - Click Here
Scroll Down to Have All of Your Questions Answered ↓
Columbus, Ohio
1505 Bethel Road
Columbus, OH 43220
(614) 442-9400
8:00 AM - 10:00 PM
7 Days a week
Call Toll-Free: 1-888-202-5824
(1-888-202-5824)
See full course schedule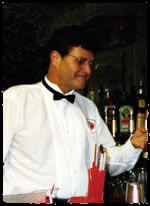 School Consultant Ben Bozeman and School Training Director Barbara Jones have been training and placing bartenders in the Columbus area for 20 years.  They joined the ABC family with a rich tradition in the field of education and bartending.
Their combined background of teaching and bartending makes them one of the areas top training staff.  Previously, Ben was also a finalist for the "Instructor of the year" award, which is given to the best instructor in the nation.
Their positive attitude towards their students and their dedication to their success makes them stand alone in his field. Their commitment to excellence and great training ensures their students of their devotion to their success in the field of bartending.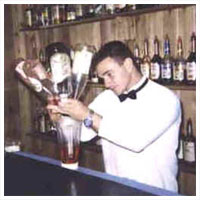 If you are 18 years of age or older, you could be in this picture, training in just 40 hours to become a professional mixologist.
Convenient Class Schedules

2 Weeks Morning

Mon. -Fri.
10:00 AM - 2:00 PM

2 Weeks Afternoon

Mon. - Fri.
2:00 PM - 6:00 PM

2 Weeks Evening

Mon. - Fri.
6:00 PM - 10:00 PM

1 Week Accelerated

Mon. - Fri.
10:00 AM - 6:00 PM

1 Week Accelerated

Mon. - Fri.
2:00 PM - 10:00 PM

Adjusted schedules are available.
CURRICULUM ↓
Set up/Changing Shifts/Closing Out
Customer Service
Basic Bar Equipment
Bar Terms
What Glass for What Drink
Free Pouring/Mixing Techniques
Mixing Cocktails - Simple and Fancy (from Shooters to Irish Coffee)
Liquor Encyclopedia
Beers/Wines/Champagnes
Cash Registers/Money Handling/Charge Procedures
Tipping
Catering Private Parties
Job Interview Techniques
JOB PLACEMENT ASSISTANCE ↓
Job Placement Assistance, Too!

Our placement staff is here to help you find work throughout the Columbus area, as well as nationally, on an ongoing basis. Free refresher courses also available to all our graduates.

Examples of Job Placements

Here are just a few examples of the types of places our students have gotten work in the Columbus area upon graduation. Benny and Barbara have been training and placing students in the Columbus area for over 20 years.

Establishment

Type/Location

Graduate

Bogey Inn
El Vaquero
The Ruckmoor Lounge
The Windward Passage
The Vault
Valleydale Ballroom
The Ohio State Fraternity Management Association
Karma
Max & Irmas
Red Lobster
Club 504
Applebees
Eddie George's
Scioto Downs
Rosie O'Grady's
Boomerrangs
MacFadden's
Las Margaritas
Hartman on Main
Sobe
Our Place Lounge (Akron area)
Red Lobster (Huntington, W. VA)
Gary's Place
Rainbow Lounge
Dockside Dolls

Dublin's fine eatery, belly up to the bar after 18 holes.
A Columbus favorite for Authentic Mexican meals and margaritas.
The working man's northside oasis.
Straight from the sea to you in Upper Arlington.
Downtown's finest banquet facilities.
Serving Columbus and Ohio for almost a century.
Bartending for Ohio's next generation of leaders.
Downtown night club scene at its best.
Columbus home bred dining and deserts.
Sawmill's lobster and your favorite beer.
North Market and Hip Hop.
Easton's neighborhood grille.
A visit to this campus eatery a must.
Race to Grove City's dogs and suds.
Northeast rocks at Rosie's.
See Patty, the bar manager. Also a graduate Northeast side pary bar.
Campus area's newest and Finest.
Ole' in Dublin.
Weddings and Graduations need bartenders.
Dance and Drink your care away Downtown.
Neighborhood friendly.
They grow lobsters there, too?
Worthington's special sports bar.
Bowling, Beer, and Music on the Southside.
Pretty girls and alcohol on the Eastside.

Whitney Sullinger
Cassandra Levisky
Barbara Howard
Joe Six
Julius Wright
Laura Fauss
Heather Martin
Nakia Johnson
Kelly Wilson
Charles Curry
Cortney Down
David Floyd
Tara Ginter
Brandy Clark
Nick Bolinger
Kristi Bates
Darcey McCarthy
Adam Nemon
Brian Hill
Patricia Moore
Kelly Houser
Josh Darby
Lynn Heward
Sean Himmelman
Dan Maciejewski